Our Embroidery
Competition Headwear embroiders its panels before the cap is sewn together to maintain extremely high registration and the best quality possible. This process also allows us the flexibility to embroider at any location on the cap (Click Here to Skip to this Section) and fill a larger area with embroidery. With Competition Headwear it is possible to embroider over 4" tall and over 6" wide with a single hooping. The preferred embroidery thread of Competition Headwear is Robison Anton, however we also carry a wide range of Madeira and Isacord colors. If you require a specific pantone match for your thread colors, we are happy to order a specific color for a nominal fee.
Placing Your Embroidery
At Competition Headwear, we focus on the details of every cap we build. Getting your order right means ensuring your embroidery is not only designed and manufactured to the highest standards, but that it is placed properly on your cap. We make it easy with our simple placement system.

First, choose from 7 locations around the cap. As the illustration below shows, each location corresponds to a panel on the cap. So the most common embroidery position is 1-6M.

Next, choose how high you want your embroidery to appear on your cap by selecting either high, medium, or low placement. If your embroidery appears on the visor, select left, right or central placement.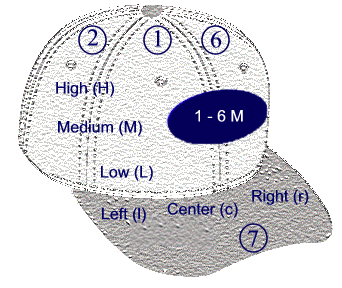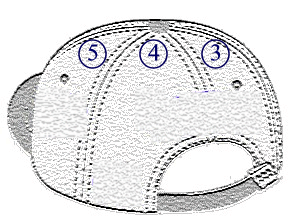 Embroidery Options
Competition Headwear offers many options to enhance your logo. We provide stunning 3-D and metallic embroidery. Additionally, we are pleased to offer elite embroidery options, such as The Triple Crown Visor and other visor logo treatments. Please contact a representative today to discuss how we can enhance your logo.



Use the links to either build a cap step by step or jump to the page you need.